Media
We want to spread the word about the seriousness of lung conditions and the work we are doing at Asthma + Lung UK, the lung health charity fighting for everyone's right to breathe. 
What we do
We know how vital the media is in raising awareness and we're keen to help in any way we can. We can offer you press releases and statements and up-to-date statistics, experts who can speak about asthma and other lung conditions, infographics, and we can help put you in touch with our celebrity supporters and people with lung conditions who want to share their stories.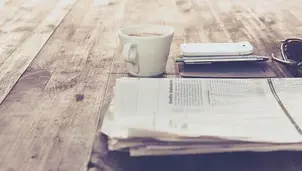 We work with journalists across the UK to highlight the impact that lung conditions have on people's lives, campaign for more lung research, cleaner air and for everyone with a lung condition to get the treatment and care they need and deserve.
Media spokespeople
Our team of experts is leading the fight against lung disease. We can offer experienced media spokespeople to talk about any aspect of respiratory health. Contact the media team to find the right spokesperson for you.
Our spokespeople
Sarah is CEO of Asthma + Lung UK and oversees all aspects of the organisation. She has a background in policy and communications, having spent many years as Executive Director of Policy, Information and Communications at Cancer Research UK, as well as previously working for the civil service and parliament. Sarah is Co-Chair of the NHS England National Respiratory Delivery Board, which directs NHS England's efforts to improve outcomes for those with lung disease, sits on the Board of the Accelerated Access Collaborative, a key government initiative aimed at encouraging swifter adoption of new technologies and treatments to tackle ill health, and is a member of the Richmond Group of health charities.
Sarah is able to talk extensively about what needs to be done to improve the nation's lung health including tackling health inequalities and the backlog of care, air pollution, tobacco control, the need for more awareness and research around lung health. She is an experienced media spokesperson and has been interviewed by national and regional media including BBC news, Channel 4 news and Sky and has written for a range of publications including The Times, Daily Mail, The Sun, Civil Society, HSJ and Forbes.
Follow Sarah on Twitter: @swoolnough
Nick is a professor of respiratory medicine at Imperial College and he is based at the Royal Brompton Hospital, London, where he runs a specialist service for people with COPD (chronic bronchitis and emphysema). Nick, who has published more than 250 research papers and qualified in medicine at Cambridge and the London Hospital Medical College, has specialist interests in lung volume reduction for emphysema, pulmonary rehabilitation and tobacco control.
Nick has been interviewed for national media including BBC, The Times and Telegraph and has published research in the BMJ and The Lancet. He is able to provide specialist insight into chronic obstructive pulmonary disease, smoking and the impact air pollution has on the lungs.
Follow Nick on Twitter: @COPDdoc
Andy is a practising GP in Portsmouth and the charity's Clinical Lead. He has worked as a GP for over 15 years and has a wealth of knowledge about diagnosis and treatment of lung conditions, including asthma, in primary care. He has held a range of roles driving innovation and quality improvement including working for the Primary Care Respiratory Society UK, on the Department of Health's Respiratory Programme and as Clinical Champion for FeNO testing at NHS England.
Andy has been interviewed for a range of national and regional media outlets including the Telegraph, BBC and Sky and written for publications including GP Online, OnMedica and Patient.info and can give expert clinical insight on all lung conditions as well as how digital innovations such as apps can help people manage their lung health.
Follow Andy on Twitter: @76whit
Samantha leads the Research and Innovation team at Asthma + Lung UK overseeing the research projects we invest in, ensuring the needs of people with lung conditions are at the heart of all research and bringing together funders to invest in lung research. Samantha is available for interviews on a wide range of topics including respiratory research, air pollution, allergies, COPD and asthma care and management. She has previously appeared in media including Radio 4's Today Programme, BBC Breakfast, ITV News and Sky News.
Samantha holds a PhD (Imperial College, London 2000) in the mechanisms of allergy and asthma and has worked in the field for over 25 years. Her work on allergies and asthma has been published in a range of research journals including the New England Journal of Medicine, the British Medical Journal and Lancet Respiratory Medicine. Before working at Asthma + Lung UK, Samantha held a range of roles including designing and delivering clinical research projects and programmes, designing respiratory educational programmes through the Open University, diagnosing and treating patients in allergy, asthma and severe asthma clinics in primary and secondary care, influencing health policy and teaching and lecturing healthcare professionals.
Follow Samantha on Twitter at: @samtwick
Joseph has worked in public affairs in the health sector for the last 15 years. He leads on external affairs in Northern Ireland, Scotland and Wales, working with governments, parliamentarians and health bodies to prioritise lung health and tackle air pollution. Joseph is able to provide expert commentary on any stories in Northern Ireland, Scotland and Wales, and has been interviewed by BBC, ITV Wales, STV, UTV and a variety of national newspapers. In addition to his role at Asthma + Lung UK, Joseph chairs Healthy Air Cymru and Healthy Air Northern Ireland and represents the organisation in a variety of coalitions in the devolved nations.
Follow Joseph on Twitter at: @Joseph_AUKBLF
Jessica and Emma oversee Asthma + Lung UK's health advice website, its Long Covid support and severe asthma assessment tools and leaflets, ensuring people with lung conditions have easy access to evidence-based, clinically sound self-management advice wherever and whenever they need it. Before moving to Asthma + Lung UK Jessica was at Cancer Research UK and Emma was Head of Content at the UK's information and advice service for young people, The Mix.  
Emma and Jessica regularly offer lung health advice comment in the press and have appeared on TV and radio across a range of national and regional media outlets. They can provide insight on a wealth of topics including condition self-management, long covid, asthma in children and correct inhaler use. They are also happy to discuss the main barriers and challenges faced by people with asthma, COPD, bronchiectasis, interstitial lung diseases (ILDs) and other lung conditions.
Erika Kennington heads up the research team at Asthma + Lung UK and is responsible for our portfolio of funded research. Erika holds a PhD from Kings College London and has worked as a research funder in the charity and not-for-profit sector for 12 years. Prior to joining Asthma + Lung UK, she worked as a published researcher in both industry and academia across a number of biomedical and health disciplines.  She regularly comments on respiratory research in national and regional media in relation to all aspects of lung health.
Krisnah leads on our engagement with major public and private funders of research and innovation, bringing together funders to bolster research into lung conditions and ensuring their priorities reflect the needs of people with lung conditions. Krisnah, who holds a Masters degree in Human Rights Law, has worked in the charity sector for over 10 years for a range of organisations including Oxfam and Crisis.
Krisnah is available for interviews on a range of topics including respiratory research and innovation, the application of technologies to transform outcomes and how addressing respiratory disease can benefit the health and wealth of the UK. He has previously appeared on ITV News, BBC News, BBC Radio and given interviews for features in national media.
Follow Krisnah on Twitter: @Kr15nah
Case studies
Hear the voices of people living with a lung condition. We can offer case studies with a wide range of conditions and experiences, to share their stories. Contact the media team to find someone to help with your story.
Celebrity supporters
We are really grateful to have had the support of some famous faces over the years, who have used their own experiences and their platform to help us raise awareness of the seriousness of lung conditions. If you're interested in speaking to one of our celebrity supporters, please contact the media office.