How is oxygen and oxygen equipment supplied?
Oxygen as a treatment must be prescribed by a registered health care professional and ordered on a home oxygen order form (HOOF). All oxygen equipment is supplied by one of four suppliers according to where you live in the UK.
You will be asked to sign a home oxygen consent form (HOCF). You will also need to give permission for your medical and contact details to be shared with the supplier. The company will then supply all the equipment you need to your home. An engineer will install the equipment and explain to you or a relative, carer or friend how to use it.
How is the oxygen breathed in?
You can breathe in the oxygen from its container either through nasal cannula or a face mask. A nasal cannula can be used to deliver up to six litres of oxygen a minute comfortably. If you need a higher flow rate of oxygen, its likely you will need a face mask. Discuss the different options with your respiratory specialist.
What is a nasal cannula?
A nasal cannula brings oxygen from your concentrator or cylinder to your nose through flexible tubing. The tubing loops around your ears. It's made of plastic or silicone and is lightweight. People generally prefer them to face masks as they are more comfortable and deliver oxygen continuously into the nose. If your cannula is uncomfortable, ask your supplier if they have different options.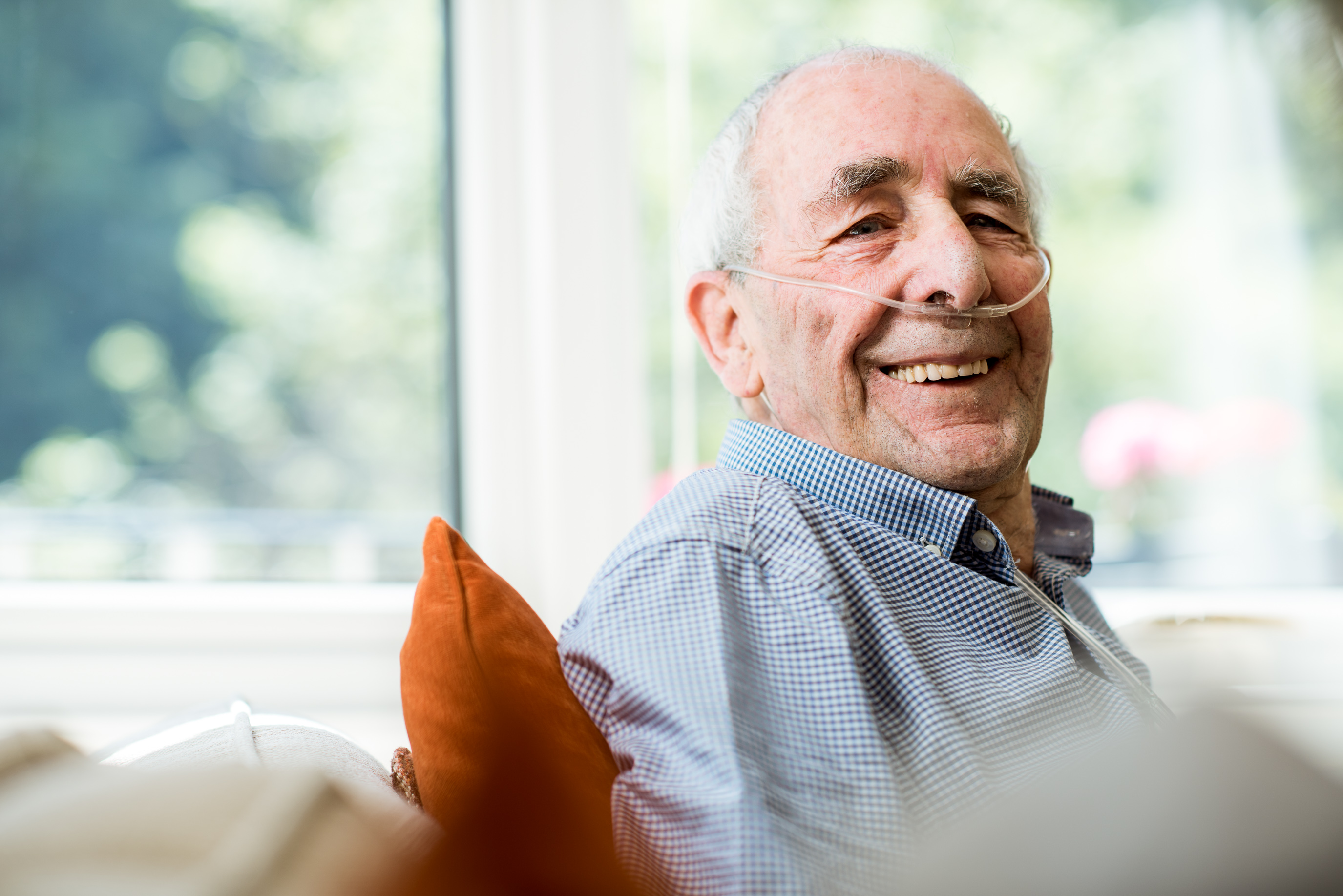 What is an oxygen face mask?
Oxygen masks are held over your nose and mouth by plastic straps around your head. A simple face mask is useful if you have nasal irritation or nose bleeds. You may find a face mask easier if you always breathe through your mouth. But a face mask can feel uncomfortable and confining. Some masks offer better control of oxygen concentration at certain flow rates and your health care professional might suggest one if they think that you would benefit from it.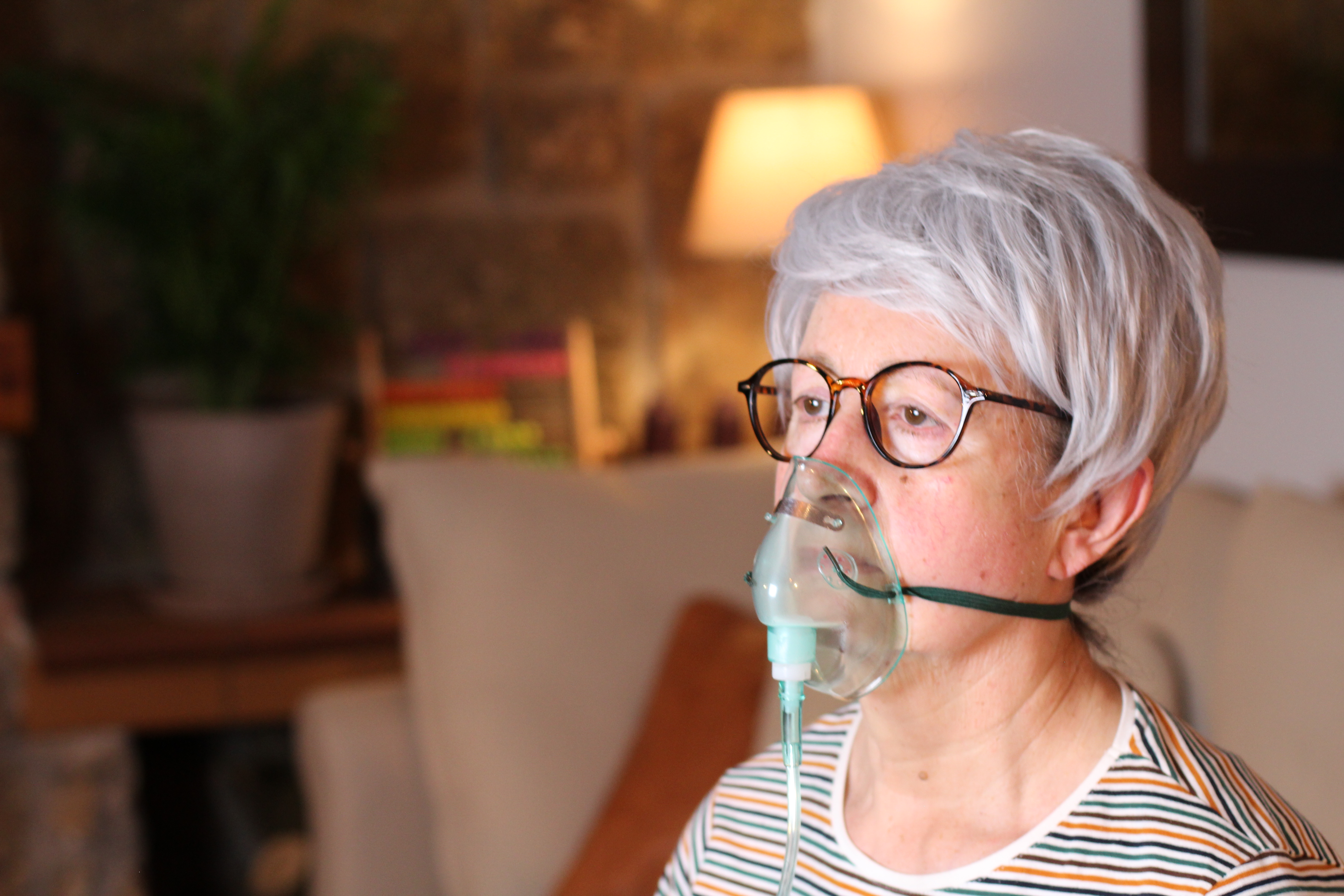 If you use ambulatory oxygen only, after you've finished walking sit for a few minutes before disconnecting yourself from the oxygen.
Bathroom activities can be exhausting. Use a towelling robe after a shower or bath, as you'll use less energy than drying yourself with a towel.
Plan your day in advance and pace yourself to make sure you have plenty of opportunities to rest.
Don't be afraid to ask for support if you need it!
How is the oxygen delivered?
You will receive your oxygen through one, or a combination, of:
All these oxygen systems are available on the NHS once you have been assessed.
It is your responsibility to inform your oxygen supplier when you need more oxygen cylinders, concentrators or liquid oxygen tanks.
Occasionally, oxygen therapy might make your nose dry or sore. Do not use Vaseline or any other petroleum-based product to relieve this, as they can be flammable. A softer nasal cannula may be available. Only use water-based products inside your nose or on your hands and face, such as K-Y jelly. Ask your pharmacist or health care professional if you need advice on what products, including sunscreen, you can use.
Oxygen concentrators
An oxygen concentrator is a machine, about the size of a bedside table, which you plug into your usual household electricity supply. It extracts oxygen from room air and delivers it to you by short tubes into your nose (a nasal cannula) or a face mask. Long tubing can also be fixed around the floor or skirting board, both upstairs and downstairs, so that you can have oxygen around your entire house.
Rooms where you have an oxygen concentrator should be well ventilated. Don't worry – there will be plenty of oxygen left in the room for others to breathe!
The supplier of your oxygen service will reimburse money towards your electricity bill to pay for the supply that the concentrator uses. A back-up cylinder of oxygen is also provided in case of a power cut. Make sure you know how to use your back-up cylinder and keep it in a convenient place. An engineer will visit regularly to make sure the concentrator is working correctly.
Portable concentrators are also available for when you are outside your home if you need ambulatory oxygen. If you have a car, you should check to see if your portable concentrator can be charged in the car, so you can do this on long journeys.
Oxygen cylinders
Oxygen cylinders contain compressed oxygen. They are provided with tubing and a nasal cannula or a face mask, delivered to your home and replaced when empty. They provide oxygen for variable lengths of time, up to eight hours depending on the size of the cylinder and the flow rate of oxygen you have been prescribed. Large cylinders are generally used for emergencies, such as a power cut or when your concentrator machine isn't working properly while you wait for an engineer to fix it.
Portable (or ambulatory) oxygen
Your respiratory team may assess you for portable (or ambulatory) oxygen for when you exert yourself. If you are already on long term oxygen therapy, you may also need to use oxygen when you go out. Depending on your oxygen needs, you may be prescribed:
| Portable oxygen cylinders | Conserving devices |
| --- | --- |
| These oxygen cylinders weigh about two to three kg (six to seven lbs) and come with a carrying case. The oxygen in them lasts for up to three hours, depending on the flow rate. The higher the flow rate, the shorter the period they will last. As with any oxygen equipment, portable cylinders must be used according to the manufacturer's safety instructions to avoid a fire risk. Your supplier may also be able to provide you with an oxygen trolley with wheels. | A conserving device is attached to a portable oxygen cylinder to make the supply last longer by giving you a pulse of oxygen only when you breathe in. This makes the oxygen last longer, but it is not suitable for everyone as it cannot supply high levels of oxygen. Your health care professional can tell you if this device is suitable for you. |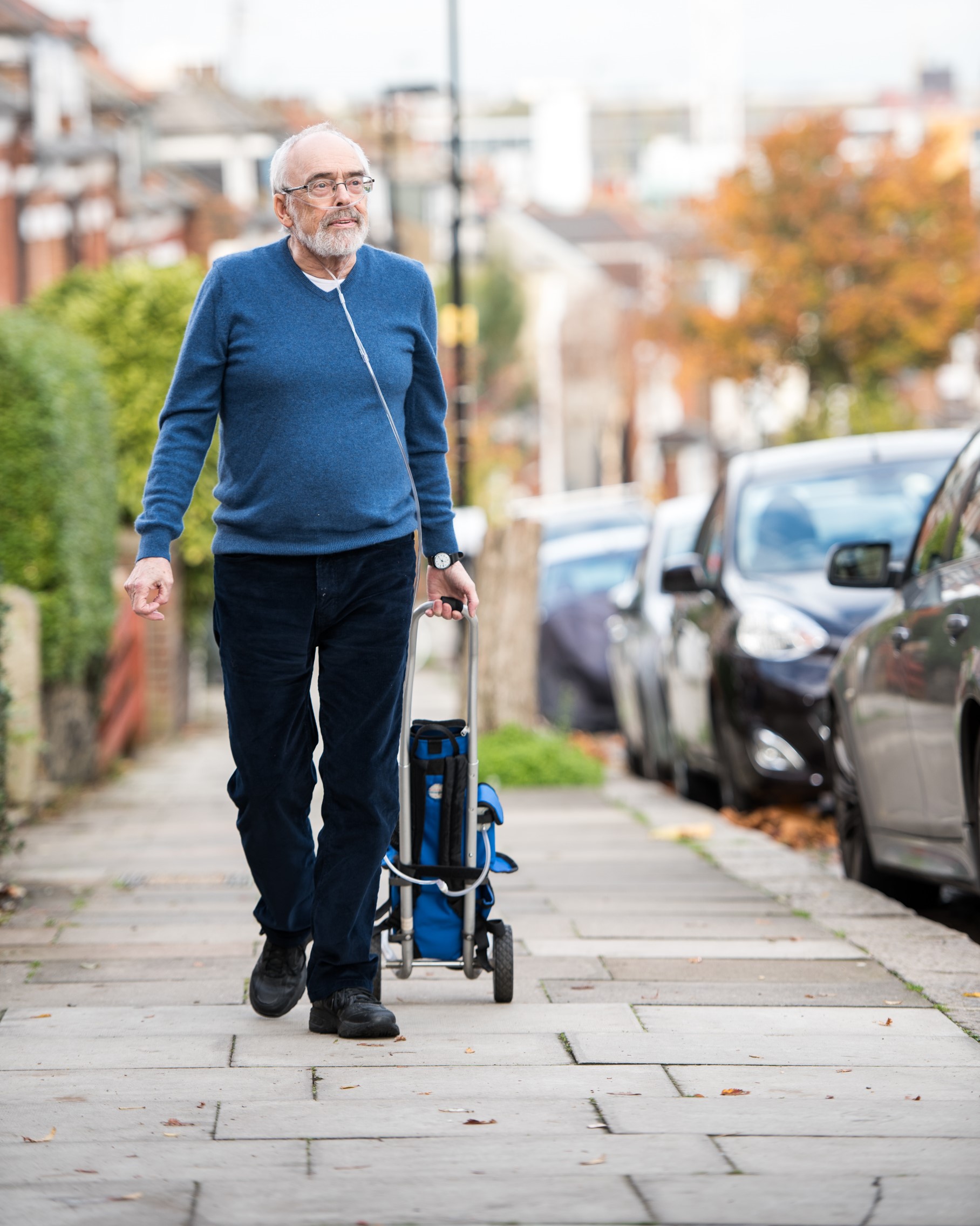 Liquid oxygen (LOX)
Liquid oxygen (LOX) maybe suitable for you if you use a lot of portable oxygen or if you need a high flow rate of oxygen. It's delivered and transferred to a tank in your home. The tank will be replaced by your supplier when it is nearly empty.
The tanks are used to fill portable oxygen cylinders (which contain a longer supply of oxygen than the usual portable cylinders). Liquid oxygen tanks must be housed in a very well-ventilated room, garage or shed. There must be no items around likely to catch fire. The fire brigade is informed of everyone on oxygen, and LOX is only supplied on the ground floor of a property. Liquid oxygen is very cold – take care when decanting it.
Looking for information on using a CPAP machine (a machine that pumps air through a mask you wear at night)? Read our online information on obstructive sleep apnoea.
Air Liquide
0808 143 9991 for London
0808 143 9999 for the South West of England
Baywater Healthcare
Covers the North West of England, Yorkshire and The Humber, West Midlands and Wales (0800 373 580)
BOC
Covers the East of England, East Midlands and Northern Ireland (0800 136 603)
Dolby Vivisol
Covers the North East of England and the South East of England (0800 917 9840). Dolby Vivisol also covers Scotland (0800 833 531)
Going on holiday with oxygen?

Read our information on travelling with oxygen or call our helpline on 0300 222 5800

The European Lung Foundation maintains a database of numerous airline oxygen policies for passengers.